By Meg Cipperly, Senior Director of Insights at Competiscan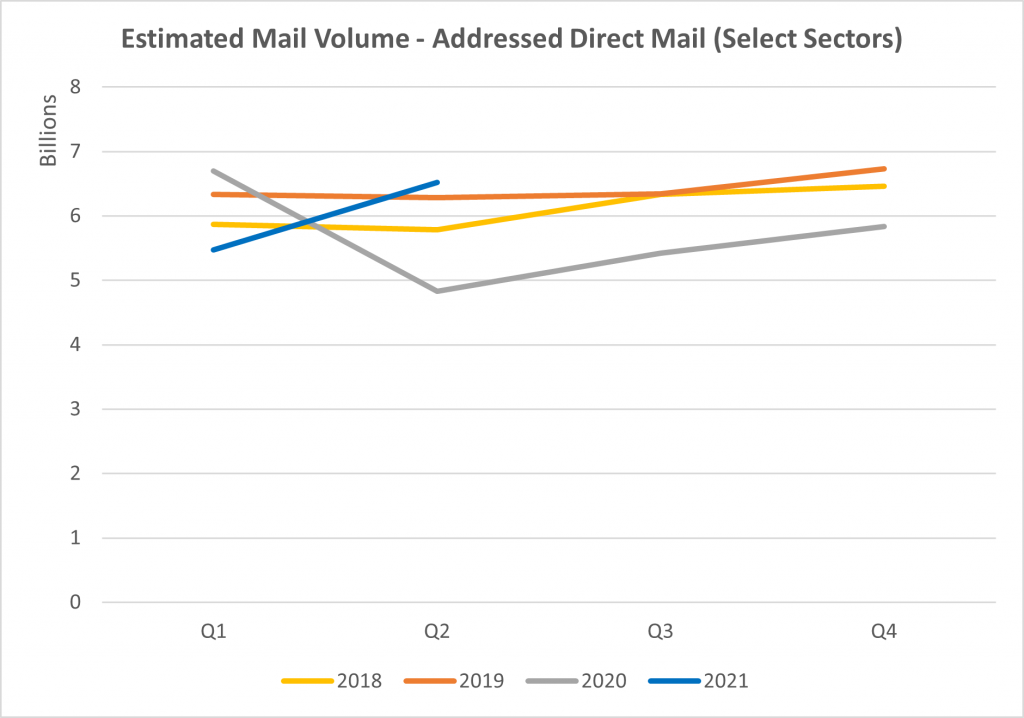 Source: Competiscan –
Media Channel: Direct Mail | Sector: Banking, Credit Cards, Energy, Insurance, Investments/Annuities, Mortgage & Loan, Telecom, Travel & Leisure | Audience: Consumer | Added to database: Between January 2018 and June 2021 | Country: US | Primary: Primary | Delivery Method: Mailed
Direct mail tends to follow a distinct pattern throughout the calendar year, with most high-volume sectors ramping up volume towards the end of the year in preparation for the holiday season. In a normal year, the spring and summer months mark the beginning of the "quiet season" for direct mail. However, COVID-19 has changed how marketers have allocated their spend throughout the past year and a half. While the initial aftermath of the pandemic in Q2 2020 marked the lowest volume point for estimated direct mail volume, consumers may have been surprised to find their mailboxes were fuller than normal in Q2 2021.
What are some factors driving this return to the mailbox?
Consumer spending increased substantially, and marketers looked to capitalize on new spending behaviors. In fact, in Q2 2021 spending on U.S. retail and food services increased over 30% year-over-year. Likewise, the rise in mail volume for food service companies has contributed to the growth in retail and consumer services mail volume over time, with companies like DoorDash and meal kit delivery services like Freshly hitting the mailbox in high volumes. At the same time, activity has gone up for home services as well. Aligned with seasonal trends, Competiscan observed a large influx of companies marketing home improvement, lawn care and pest control services this summer. With consumers spending more time at home, the mailbox has been proven to be an effective marketing channel in this segment.
Another area for growth in direct mail has been in the travel and leisure category. Travel direct mail volumes nosedived in Q2 2020, as industries like cruise lines virtually halted marketing activity. While travel volumes have not yet returned to 2019 levels, Competiscan has observed a recent influx of mail from cruise line companies, as well as hotels, resorts, and casinos.
Credit cards and personal loans historically account for two of the highest marketed products in financial services. Both industries took a severe hit in Q2 2020, but in 2021 have increased activity substantially. For personal loans, several lenders reported strong originations and loan performance in Q2 alongside the increase in mail volume. While the spring and summer months aren't necessarily known for being the peak marketing season for personal loans, there are plenty of good reasons to market personal loans during this time of year. With consumers looking to finance their vacation, borrow funds for home improvement projects, or even finance a wedding, lenders have multiple options for positioning personal loan products in effective ways during the spring and summer months.
Credit card companies mail in huge quantities, and Q2 was the first quarter we really saw a flood back into the mailbox from many issuers. Almost every top ten issuer showed an increase year-over-year in direct mail volume. Additionally, there were several new credit card product launches that occurred in 2021, also contributing to the increase in mail volume. We observed increases in general purpose consumer cards, travel cards, retail cards and especially credit building cards. Q2 is typically a relatively light quarter for credit cards, with the highest volume of the year usually occurring before and after the holiday season. However, in Q2 of 2021 volumes reached their highest point since pre-pandemic, with issuers looking to capitalize on the increase in consumer spending.
However, even in industries that are facing significant challenges due to the lasting impacts from the pandemic, there are still strategic opportunities to leverage to maintain a marketing presence.
Although the total category volume is down, Competiscan has noted a sustained increase in auto finance marketing volume specifically from credit unions over the past several quarters. Credit unions often look to auto finance to deepen the relationships with their existing members. In both Q2 of 2020 as well as Q2 of 2021, credit union auto finance mail volume accounted for a large percentage of activity in the mailbox as other auto marketers decreased their volumes in the spring and summer months. While the automotive industry often markets their products towards the end of the year, credit unions have tailored their spring and summer campaigns with seasonal messaging to better stand out in a relatively less packed mailbox. One interesting note is that we saw an increase in credit unions discussing auto loans for their members to use to prepare for their next road trip or vacation. Specifically, we saw a 162% increase in campaigns marketing a recreational vehicle loan, products that were particularly popular as consumers turned to enjoying more domestic outdoor adventures for their summer plans in 2021.
In conclusion, COVID-19 has changed how marketers have approached their direct mail strategy and its relationship to the calendar year. Although we expect the second half of the year to bring its own unique challenges to these industries, we know that with the right messaging and product strategy at the right time, you can find your opportunity in the mailbox regardless of what season it is.
For more information on marketing data and insights, please email us at research@competiscan.com
Sources:
https://www.census.gov/retail/marts/www/marts_current.pdf